4. THE Z80 INSTRUCTION SET
4.1 INTRODUCTION
This chapter will first analyze the various classes of instructions which should be available in a general-purpose computer. It will then analyze one by one all of the instructions available for the Z80, and explain in detail their purpose and the manner in which they affect flags or can be used in conjunction with various addressing modes. A detailed discussion of addressing techniques will be presented in Chapter 5.
4.2 CLASSES OF INSTRUCTIONS
Instructions may be classified in many ways, and there is no standard. We will distinguish five main categories of instructions:
data transfers
data processing
test and branch
input/output
control
4.2.1 Data Transfers
Data transfer instructions will transfer data between registers, or between a register and memory, or between a register and an input/output device. Specialized transfer instructions may exist for registers which play a specific role. For example, push and pop operations are provided for efficient stack operation. They will move a word of data between the top of the stack and the accumulator in a single instruction, while automatically updating the stack pointer register.
4.2.2 Data Processing
Data processing instructions fall into five general categories:
arithmetic operations (such as plus/minus)
bit manipulation (set and reset)
increment and decrement
typical operations (such as AND, OR, exclusive OR)
skew and shift operations (such as shift, rotate)
It should be noted that, for efficient data processing, it is desirable to have powerful arithmetic instructions, such as multiply and divide. Unfortunately, they are not available on most microprocessors. It is also desirable to have powerful shift and skew instructions, such as shift n bits, or a nibble exchange, where the right half and the left half of the byte are exchanged. These are also usually unavailable on most microprocessors.
Before examining the actual Z80 instructions, let us recall the difference between a shift and a rotation. The shift will move the contents of a register or a memory location by one bit location to the left or to the right. The bit falling out of the register will go into the carry bit. The bit coming into the other side will be a "0" except in the case of an "arithmetic shift right," where the MSB will be duplicated.
In the case of a rotation, the bit coming out still goes into the carry. However, the bit coming in is the previous value which was in the carry bit. This corresponds to a 9-bit rotation. It is often desirable to have a true 8-bit rotation where the bit coming in on one side is the one falling from the other side. This is not provided on most microprocessors but is available on the Z80 (see Figure 4.1).
Finally, when shifting a word to the right, it is convenient to have one more type of shift, called a sign extension or an "arithmetic shift right." When doing operations on two's complement numbers, particularly when implementing floating-point routines, it is often necessary to shift a negative number to the right. When shifting a two's complement number to the right, the bit which must come in on the left side should be a "1" (the sign should get repeated as many times as needed by successive shifts). This is the arithmetic shift right.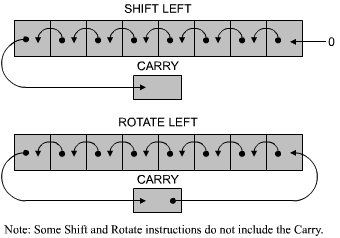 Fig. 4.1: Shift and Rotate
4.2.3 Test and Jump
The test instruction will test bits in the specified register for "0" or "1", or combinations. At a minimum, it must be possible to test the flags register. It is, therefore, desirable to have as many flags as possible in this register. In addition, it is convenient to be able to test for combinations of such bits with a single instruction. Finally, it is desirable to be able to test any bit position in any register, and to test the value of a register compared to the value of any other register (greater than, less than, equal). Microprocessor test instructions are usually limited to testing single bits of the flags register. The Z80, however, offers better facilities than most.
The jump instructions that may be available generally fall into three categories:
the jump, which specifies a full 16-bit address
the relative jump, which is often restricted to an 8-bit displacement field
the call, which is used with subroutines
It is convenient to have two- or even three-way jumps, depending, for example, on whether the result of a comparison is "greater than," "less than," or "equal." It is also convenient to have skip operations, which will jump forward or backward by a few instructions. However, a "skip" is equivalent to a "jump." Finally, in most loops, there is usually a decrement or increment operation at the end, followed by a test-and-branch. The availability of a single-instruction increment/decrement plus test-and-branch is, therefore, a significant advantage for efficient loop implementation. This is not available in most microprocessors. Only simple branches, combined with simple tests, are available. This, naturally, complicates programming and reduces efficiency. In the case of the Z80, a "decrement and jump" instruction is available. However, it only tests a specific register (B) for zero.
4.2.4 Input/Output
Input/output instructions are specialized instructions for the handling of input/output devices. In practice, a majority of the 8-bit microprocessors use memory-mapped I/O: input/output devices are connected to the address bus just like memory chips, and addressed as such. They appear to the programmer as memory locations. All memory-type operations normally require 3 bytes and are, therefore, slow. For efficient input/output handling in such an environment, it is desirable to have a short addressing mechanism available so that I/O devices whose handling speed is crucial may reside in page 0. However, if page 0 addressing is available, it is usually used for RAM memory, which prevents its effective use for input/output devices. The Z80, like the 8080, is equipped with specialized I/O instructions. As a result, in the case of the Z80, the designer may use either method: input/output devices may be addressed as memory devices, or else as input/output devices, using the I/O instructions.
They will be described later in this chapter.
4.2.5 Control Instructions
Control instructions supply synchronization signals and may suspend or interrupt a program. They can also function as a break or a similated interrupt. (Interrupts will be described in Chapter 6 on Input/Output Techniques.)
4.3 THE Z80 INSTRUCTION SET
4.3.1 Introduction
The Z80 microprocessor was designed to be a replacement for the 8080, and to offer additional capabilities. As a result of this design philosophy, the Z80 offers all the instructions of the 8080, plus additional instructions. In view of the limited number of bit available in an 8-bit opcode, one may wonder how the designers of the Z80 succeeded in implementing many additional ones. They did so by using a few unused 8080 opcodes and by adding an additional byte to the opcode for indexed operations. This is why some of the Z80 instructions occupy up to five bytes in the memory.
It is important to remember that any program can be written in many different ways. A thorough knowledge and understanding of the instruction set is indispensable for achieving efficient programming. However, when learning how to program, it is not essential to write optimized programs. During a first reading of this chapter, it is therefore unimportant to remember all the various instructions. It is important to remember the categories of instructions and to study typical examples. Then, when writing programs, the reader should consult the Z80 instruction set description, and select the instructions best suited to his needs. The various instructions of the Z80 will therefore be reviewed in logical categories. The reader interested in exploring the capabilities of the various instructions is referred to the individual descriptions of the instructions.
We will now examine the capabilities provided by the Z80 in terms of the five classes of instructions which have been defined at the beginning of this chapter.
4.3.2 Data Transfer Instructions
Data transfer instructions on the Z80 may be classified in four categories: 8-bit transfers, 16-bit transfers, stack operations, and block transfers. Let us examine them.
4.3.2.1 Eight-Bit Data Transfers
All eight-bit data transfers are accomplished by load instructions. The format is:
LD destination, source
For example, the accumulator A may be loaded from register B by using the instruction:
LD   A,B
Direct transfers may be accomplished between any two of hte working registers (ABCDEHL).
In order to load any of the working registers, except for the accumulator, from a memory location, the address of this memory location must first be loaded into the H-L register pair.
For example, in order to load register C from memory location 1234, register H and L will first have to be loaded with the value "1234". (A load instruction operating on 16 bits will be used. This is described in the following section.)
Then, the instruction LD C,(HL) will be used and will accomplish the desired result.
The accumulator is an exception. It can be loaded directly from any specified memory location. This is called the extended addressing mode. For example, in order to load the accumulator with the contents of memory location 1234, the following instruction will be used:
| | | |
| --- | --- | --- |
| LD   A,(1234H) | | (Note the use of the "( )" to denote "contents of.") |